The Novus Ordo Files
ARCHIVE 04/05, 2003

These are the news stories of April & May, 2003
Swiss Modernist Apostate Hans Küng
Encourages People to Rebell Against Church


Arch-Apostate and Schismatic Hans Küng (75)
extremely dangerous due to his masterful rhetoric
denies almost every single dogma there is
So how come this man has never been excommunicated by the Vatican?
Novus Ordo Watch SPECIAL:
"Church From Below"


The "Ecumenical Church Day" Debacle in Germany CLICK HERE

No, This Is Not the Octoberfest


This is "Intercommunion" between "Catholics" and Protestants in Berlin, Germany
Will the Material Schism Finally Be Formalized?
Defiant Heretics & Schismatics in Berlin Celebrate "Intercommunion" Against Vatican Prohibition
More: Dissent, Heresy, Schism at German Ecumenical "Church Day"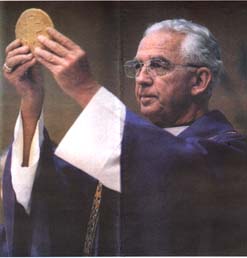 Novus Ordo Bishop using Clearly Invalid Matter at an Invalid "Mass"
(scroll to story for May 27, 2003) --Diocese of Oakland, CA
"Conversion of Russia" Update:
China & Russia Unite Against the U.S.


Only in the Novus Ordo:
Discussing the "Problem" of the Papacy
Hey, at least they're honest about it: in the Novus Ordo religion, Catholic Doctrine is actually a "Problem"

Freemasonry and the European Constitution

"Cardinal" Kasper Denies Apostolic Succession!!
Wants to "Reevaluate" Pope Leo XIII's Declaration of Invalidity of Anglican Orders
Note: words like "reevaluate" and "rethink" are typical watchwords of modernists

"Cardinal" Walter Kasper, modernist apostate and destroyer of souls
The Innocence of Our Children under Attack--Again!
Several U.S. "Catholic" Dioceses to use Sex-Ed Program Designed by Group that used to Advocate Prostitution
(Caution! Web Site is Protestant)

What the Heck, it's just Blaspheming God, right?
Incredible Movie Review by Catholic Bishops
on Blasphemous "Bruce Almighty" Movie
This is just beyond comprehension....
this is actually a positive review of a disgusting movie
Contrast this, for instance, with their negative review of the Veggietales movie teaching the True Biblical Story of Jonah and the Fish


Is this man actually a Catholic?
Tough Questions for Avery Dulles
Denying just One Dogma makes him a Non-Catholic

Sexual Abuse Allegations also in South Africa
Paul VI School Dean Resigns over Web Site Picture
A Thorn in the Side of the Newchurch:


Biffi: 'Antichrist probably now among us, perhaps advocating Ecumenism, definitely subverting Catholic Church'
This is a story from March, 2000, but as interesting now as ever...
The Attack on SSPX St. Michael's Parish in Long Island: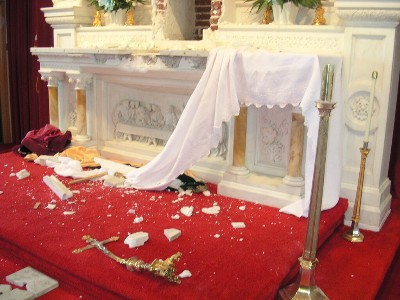 No Outcry from Bishops, Politicians, Anyone
Will Law Enforcement Really Care to Find the Perpetrators?


JAW-DROP:
"Card." Ratzinger says Church Should Apologize for Executing Giordano Bruno!
Does Ratzinger have any idea what this awful, damnable heretic Bruno taught?!!


Welcome to the
ABOMINATION OF DESOLATION


"...the continual sacrifice shall be taken away, and the abomination unto desolation shall be set up..." (Daniel 12:11)
Hippie Service in San Fernando Cathedral
What will happen to Archbishop Flores? Nothing!
Remember, Archbishop Lefebvre was the one that was dangerous!

Archbishop of St. Paul withdraws Award to Practicing Lesbian
Hey, at least that's something...but you have to wonder: why in the world did she get an award in the first place? She lives together with a "partner" and four children, for crying out loud!


Still Promoting the "Peace" of This World:
JPII appeals to Catholics & Jews to work together for Peace
True Peace will not come until Russia is consecrated to Our Lady's Immaculate Heart
More pandering to Jews, watering down of the Gospel

Bishop Timlin Skips Too, Same Reason
Bishop Skips Ceremony over Abortion Issue
Very good, but still falsifies Catholic teaching on the Death Penalty

Diocese of Manchaster to Pay $6.5 Million Dollars in Settlements
Guess where that money comes from....
JAW-DROP:
John Paul II Gives Catholic Parish
to Orthodox Schismatics

Only in the Novus Ordo:
In Most Parishes, Altar Girls Outnumber Altar Boys


Vatican Announces Traditional Mass in St. Mary Major for May 24
And what will the Mass be offered for? True Peace? Conversion of Sinners? End to Abortion? Conversion of Russia? No! Instead, in honor of John Paul II!
And why won't John Paul II himself come?
Only in the Novus Ordo:
When Priests Don't Run the Parishes
Vatican Embarrassed about True Mass, It Appears

Retiring Novus Ordo Bishop Discusses Sex Scandal
Pataki NOT Joining Masons After All
Like this Pro-Abort modernist is actually concerned about sin!
John Paul II's Sillonism:
JPII Says United Nations More Necessary than Ever
Yes, he means that filthy, pro-abortion, masonic-humanistic institution
that wants to be a One-World government, erect a One-World Religion,
and establish the New World Order
How about restoring the Social Kingship of Christ??


Upcoming Repairs to the Liturgical Fiasco
Positive First Step or Another Maneuver of Deception?


"Conversion of Russia" Update:
Russia to Simulate Attack against U.S., Britain
Long live Fr. Gruner and his Fatima Apostolate!
A Step in the Right Direction:
NY Archdiocese Says Marist College "No Longer Catholic"
Vatican to "Crack Down" on Liturgical Abuse --or so they say


Attack on Traditional Catholic Parish!
"Man is the Way for the Church," says JPII
"The supreme religious deception is that of the Antichrist, a pseudo-messianism by which man glorifies himself in place of God" (New Catechism, #675).
Hello....can we make a connection here?
Only in the Novus Ordo:
Sillonist Vatican Invites Buddhists to work for "Peace"
Pope St. Pius X's Condemnation of Sillonism Here
Jesus Christ: "My peace I give unto you: not as the world giveth" (John 14:27)
Can't We All Just Get along?
Vatican Message to Buddhists

John Paul II's 101st Trip in June: to Bosnia
Number of John Paul II's Beatifications to Date:

Yeah, it's easy to lose track!
JPII's 100th Trip, to Croatia: and, of course, One More Beatification
Sillonism & Syncretism at their Best


"Catholic"-Muslim Support Agreement Signed





The Sad State of Post-Conciliar "Liturgy"

Bye, Bye, Campos!

Put on your Surprise Face:
Rome's Teenagers Distant from Catholicism
(No kidding....are they finally waking up?)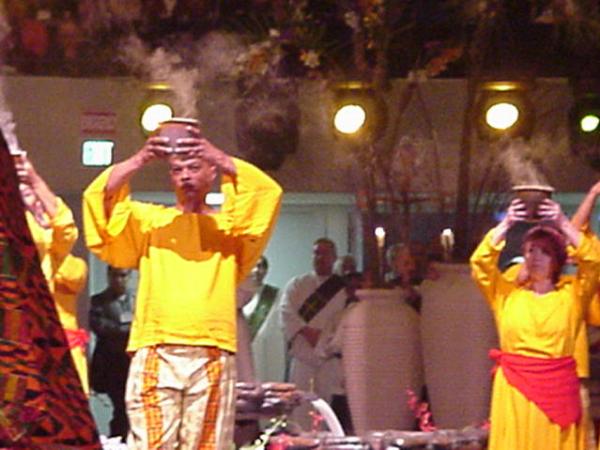 Pagan "Black Culture" Mess at Taj Mahony


'Man, this is fun! We get to clap our hands!'
Vatican might Change Strategies with Islam
JAW-DROP:
Boston Parish Scheduled to Feature Psychics -- Cancelled at last Minute
This is the Pastor of the Parish:


Fr. Walter Cuenin
Pro-Gay, Pro-Women's-Ordination
Click Here for His Novus Ordo Parish


John Paul Superstar?


99 Trips Abroad, 469 "Saints," 1,314 "Blesseds"
Give Me a Break!
The youth, with no clue about Catholicism, celebrated "Pope hero"


Will They Be Excommunicated?


Lay Women Simulating a Novus Ordo "Mass"
Gee, this is even too Novus Ordo for the Novus Ordos!
THEY'VE LOST IT!
New Religion In Full Force:
Vatican Official Invites Buddhists to Pray for Peace
....to THEIR "god" of course!
You've Got to Read This -- There is Nothing Catholic in the Vatican Anymore


"Cardinal" Hoyos to Say Traditional Mass in Rome
But don't get excited just yet---why should that mean anything? So far, all we've seen is deception, deception, deception. They want traditionalists to become Novus Ordos.

JAW-DROP:
"Cardinal" Sodano Says Man's Destiny is "Living Together," "Holding Hands"
Well, at least the cat is out of the bag now!
We've been saying this all along: they no longer have the Catholic Faith. It's a humanistic syncretistic cult!
SSPX Negotiations Update
Given by Bishop Fellay on December 19, 2002
More Fruits of the "New Springtime":
Former Priest Posing Nude for Gay Magazine
Perpetuating Wickedness:
JPII Assisi "Peace" Invocation Made Into Song
Scandal Update:


Long-Time Alabama Catholic Educator Arrested on Sex Abuse Charges
Bishop Clark to Wreckovate Cathedral
Yes, that's THIS bishop
John Paul II's Current Score: 1,316
(incl. 6 newly-beatifieds)
However: at least one very anti-ecumenical "beatification"

Only in the Novus Ordo:
Gay-Friendly Parishes
JAW-DROP:
Illinois Bishop Endorses Planned Parenthood Rabbi
at Diocese Anniversary "Interfaith Worship Service"


SSPX Superior General, Bishop Fellay, Denies Rumors Also
No SSPX / Rome Reconciliation
The Question Remains: Who Started the Rumors, and Why?
Cookies, Anyone?


The "Eucharist" of the Newchurch
Major Catholic News Outlet, "Catholic News Service," Features This Photo on Front Page about Eucharist Encyclical
Bishop Tissier (SSPX): Rumors Are False; Rome Tries to Separate SSPX
SSPX Headquarters in UK Deny Rumors Are True
Ditto for US Headquarters in Kansas City

The Times Online (UK) Falsely Claims that 3 of the 4 SSPX Bishops Are Caving In



Does John Paul II Know How to Baptize?


It Seems Not!
The Water Must Touch the Skin, not the Hair!
On GOOD FRIDAY.....
The Novus Ordo Religion prays:
"for the Jewish people, the first to hear the word of God, that they many continue to grow in the love
of his name and in faithfulness to his covenant"
But the Catholic Church prays:
"for the perfidious Jews: that Our Lord and God may lift the covering off their hearts, so that they may acknowledge Jesus Christ Our Lord."

How about THAT for a Stark Contrast??


JPII's New Encyclical Reinforces Traditional Stand Against Intercommunion and Communion of Divorced/ Remarried Couples
Not to be Negative: but will ACTIONS follow these WORDS??
John Paul II Issues New Encyclical
Retired L.A. Priest to Stand Trial on Molestation Charges
Vatican doesn't want Gays in the Priesthood, right? Well, Maybe Not.
Seven More "Beatifications" Underway

34 Sue Diocese of Rockville Center for--well, take a guess
Albany Diocese Removes 2 More Priests
John Paul II Consecrates Youth to Mary
Pray for Tom Monaghan: He Means Well, but is Building Yet Another Novus Ordo University!
Masonry Triumphs at Vatican:
At JPII "Mass": "Let us pray for all peoples and cultures of the world, for all those who seek God in different religious ways. May there always be dialogue among them, may intolerance and contempt be extinguished, and together may they seek ways of concord and fraternity"!
Welcome to Indifferentism, Humanism, and Sillonism!
What Is THIS?
How Disgusting!


The "Holy Family"??? What utter Blasphemy to depict the Most Pure Virgin in the lap of the pure and celibate St. Joseph like that!
In Tennessee, Anything Is Possible?
Any Comments Necessary?


This in the Diocese of Knoxville, TN
Yes, That's a Priest. And Yes, that's Marilyn Monroe.
"Catholic" Bishop Preaching from Methodist Pulpit---Catholicism? No, Honoring Martin Luther King!
And of course this same Bishop will not allow the True Mass or True Catholicism in his diocese.....

THIS MAN
Gives us THIS (click here, but be warned, these pictures aren't pretty)
More Fruits of the New Mass:
Increased SARS Risk at Novus Ordo Mass?
Believe me, the spiritual poison there is much more dangerous than any SARS virus might be
The Traditional Mass never faced any such problems
Archbishop Knew of Abuse, Kept Priest in Post
"I'm OK, You're OK":
Indifferentist "Dialogues" Between "Catholics" and Buddhists Begin

Theology of the Bawdy?
John Paul II watches as scantily dressed female acrobats
perform in front of him in 1981 (be careful, explicit picture)

South Florida Novus Ordo Priest Sentenced to Prison for Sex Crime
JAW-DROP
Welcome to the 'Fun Church'
South Florida 'Fun Parish' Features Performing Monsignor in Parish Supper Club-- Miami Archbishop is Thrilled, Requested Sinatra Song, Calls this the "Greatest Idea on the Face of the Earth"


Msgr. Reynolds in "Henry's Hideaway" "church pub" at St. Henry "Catholic" Church
Inventor of the Idea was Miami Archbishop emeritus Edward McCarthy!!!
You bet that people who never dress right for Mass will dress up for THIS!
The perversity and wickedness and absurdity of the Novus Ordo Religion knows no bounds
Read the Full Story Here and WEEP!


Behind the Robes: "Cardinal Mahony" and the Sex Scandals


Only in the Novus Ordo:


Milwaukee Parish Features "Prayer Service for Women's Ordination"!

"Can't We All Just Get Along?":
"Catholics" & Episcopalians Propose Joint Meetings of Bishops
Indifferentism in Action!
Only in the Novus Ordo: Gay Pervert to Speak at "Catholic" Parish
"Catholics" United for the Faith: Stand for Communion!
Some Good News for a Change:
Archbishop Forbids Gay Advocate from Preaching at Parish--but only after pressure, apparently
Sydney Archdiocese Looking for
"Funky Catholics Aged 15-35"


So, This Is the "Salt of the Earth," Eh? God Protect Us!
"Would You Mind Resigning, Father?"
Bloody Scenario: These Nuns Did What??
Only in the Novus Ordo: Diocese Sues Diocese
Did John Paul II Condemn the Iraq War? Maybe not, after all...
Witchcraft in Diocese of Oakland!


Novus Ordos gather around Wiccan "labyrinth" with 13 candles!


Supreme Modernist says Christ made Covenant with all of humanity!
John Paul II : War Must Never Divide World Religions
Hello, the world's religions are already divided--by definition!
Can there be anymore doubt that John Paul II wants there to be a one-world religion, or at least a collaboration of all world religions, where everyone is allowed to believe as he wishes as long as there is no violence, no disagreement, no fighting, in short, a "civilization of love and peace," as he calls it? What is this?!!
Priests and Bishops, not Media, to Blame for Sex Scandals
Fair Use Notice:
This web site may contain copyrighted material the use of which may not always have been specifically authorized by the copyright owner. We are making such material available in our efforts to advance understanding of political, human, religious, and social issues. We believe this constitutes a 'fair use' of any such copyrighted material as provided for in section 107 of the US Copyright Law. For more information go to: http://www.law.cornell.edu/uscode/17/107.shtml. If you wish to use copyrighted material from this site for purposes of your own that go beyond 'fair use', you must obtain permission from the copyright owner.