Important Notice on the Novus Ordo Watch Blogspot Here
YES! Oregon Diocese Refuses to Host Pro-Abortion Politician
Irony²
Ven. Anne Catherine Emmerich to be "Beatified"
This is ironic because she, history's greatest visionary ever, identified the False Church and the Apostasy as follows:
"I saw many pastors cherishing dangerous ideas against the Church. . . . They built a large, singular, extravagant church which was to embrace all creeds with equal rights: Evangelicals, Catholics, and all denominations, a true communion of the unholy with one shepherd and one flock. There was to be a Pope, a salaried Pope, without possessions. All was made ready, many things finished; but, in place of an altar, were only abomination and desolation. Such was the new church to be, and it was for it that he had set fire to the old one; but God designed otherwise."
"Once more I saw that the Church of Peter was undermined by a plan evolved by the secret sect, while storms were damaging it."
"I saw deplorable things: they were gambling, drinking, and talking in church; they were also courting women . . . Priests allowed everything and said Mass with much irreverence."
Sources: Life and Revelations of Anne C. Emmerich and Catholic Prophecy
JAW-DROP!
The Height of Sacrilege: The Picnic Basket Tabernacle!


In "Eucharistic Chapel" of "Catholic Campus Ministry," Springfield, MO
Can't Comment.....Mouth Still Open
"New Springtime" Update:
Winnie the Pooh at "Mass"--and other Diabolical Abberations
Secular Media Realizes Calculated Infiltration of Catholic Church
Are They Waking Up?
Neocatholic Magazine Starting to See the Light on Vatican II?
A. S. Guimaraes Comments
Taking It to the Streets
How Threatened They Feel when there's even the slightest indication
someone might take away their Social Club church:
Novus Ordos Demonstrate Against Fr. Perricone for Being Too Catholic

"New Springtime" Update:


Zionism Intruding.....
Star of David over Catholic Monstrance
Tom Woods: Why Latin in the Traditional Mass

Embattled Bishop Timlin of Scranton, PA, Retires
Money, Masons, Mafia:
"God's Banker" Case, formerly ruled Suicide, now Re-Opened
And here we do well to remember John Paul I and his "accidental" death
Whoa!
EWTN Admits (certainly unwittingly) that New Mass is Offensive!
(see story for July 28th)
Vatican Cardinal Celebrates "Mass"
in Mahony's Pagan Temple, Speaks in Glowing Terms of New "Cathedral"


Short of John Paul II doing this, that's about as official as Vatican recognition can get!
Is Anyone Surprised?
Bishop Fiorenza Hosts Conferences Featuring Known Sodomite Sympathizer!
Holy Sacrifice or Happy Meal?


Click for larger image
We report, you decide! :-P
JAW-DROP:
Vatican Undersecretary Approves Openly Homosexual Man to Seminary
Welcome to the "New Springtime"!
Put on Your Surprise Face:
Chinese Novus Ordo Bishop: China Has Not Changed!
Says doubters "don't know the communists"

Massachusetts Attorney General:
Over 1,000 Victims in Boston Archdiocese in 60 Years
JAW-DROP:
Archbishop Martino:
U.N. "irreplaceable" for Dialogue and World Peace!
The Vatican's continued Sillonism Cries to Heaven! Their Support for the Abominable United Nations is Evil! Read Why the U.N. Is Not Our Friend
The only True Peace is through the Kingship of Christ, ask Our Lady of Fatima!
Take a Look at THIS Picture (click). It's a Lutheran "Mass."
If it weren't for the woman in the picture, what difference would you see between this and the Novus Ordo? Well, none of course.
Changes in the Novus Ordo Worship Service
Diabolical to the Core:
Convicted Child Molester Priest Paul Shanley
allegedly PAID to Rape Boys!

NUDITY IN CHURCH!
Belgian Priest has "Fashion Show" in Parish, Features "See-Through Blouses," Blasphemy, and Sacrilege--"Cardinal" Daneels wants to "see it first" before possibly taking action!
FIAT Motor Co. advertizes during "Mass"?


Sorry, but we don't have a better picture
"It's Not Your Mother's Catholic Church"
What better proof of the Rupture between the Catholic Religion and the Novus Ordo Religion than their own testimony? It is no longer the same religion, folks!
Everyone knows there has been an undeniable rupture--only the Neocatholics, they desperately try to tell you it's all legitimate "development" with perhaps a "few problems." WAKE UP, PEOPLE!
Deception at Legionaries of Christ?
POP QUIZ:
What is THIS?

OK, so you can already guess the answer. Here is the web site of the "church." Take a look at the "inside" of the "church." The Archbishop of Vienna is "Cardinal" Schonborn. Under "Cardinal Konig," Vienna built the following piece of blasphemy-in-cement:


Have a problem with that? Come on, it's the New Springtime, stupid!
Let the Neocatholics explain that one:
Mahony's Pagan Temple Gets Vatican Recognition
Whoa! Politically-Incorrect Priest Sued over Funeral Sermon
Finally, a priest who doesn't canonize everyone who dies in his parish!
German "Intercommunion" Priest finally Suspended
Related Story: Ecumenical Church Day in Berlin
Germany Sports Queer Parish!


"Do not err: Neither fornicators nor idolaters nor adulterers: Nor the effeminate nor liers with mankind nor thieves nor covetous nor drunkards nor railers nor extortioners shall possess the kingdom of God." (1 Corinthians 6:9-10)

Embattled Priest Has History of Allegations Involving Alcohol
The Face of the Newchurch:


(click image for larger view)
A Picture Says More than a Thousand Words:
The Disfigurement of Truth and Holiness and Beauty in the Novus Ordo Religion
"New Springtime" Update:
Cornwall Bishop closes 3 Parishes
News from the "Fun Church":
Belgian Muppet Meets Novus Ordo Cardinal


Modernist "Cardinal" Daneels on Belgian TV


Behold the "Peaceful" Buddhists:
Buddhists Desecrate Church in Cambodia
WHAT THE HECK IS THIS??


Abomination in Belgium's Mechelen Cathedral!
Update: It's supposed to be a "comma," as in "punctuation mark," because "life is a sentence that seems to end in a comma but ends in God".... Wow! Behold the profound depths of Novus Ordo spirituality! (How stupid do these people think Catholics are?)
Then again, what do you expect if the "altar" looks like this:

Novus Ordo Apostolate Publishes New Book to Convert Protestants
Wonderful! But they still don't realize, we suppose, that converting Protestants isn't in line with "the ecclesial reality of today," to use a phrase from "Cardinal" Hoyos. No doubt, many Neocatholics mean well, but they believe in a church which doesn't exist--a church that embraces Vatican II, the new theology of John Paul II and Paul VI, and yet remains orthodox and essentially missionary--an impossibility. They don't realize that the Novus Ordo religion will only dialogue with Protestants, and, if anything beyond that, only foster a false communion with them. What is totally gone is the insistence that these Protestants must convert or else be forever damned. The conservative Neocatholics thus believe in a church that contains the new creed of Vatican II and Paul VI and John Paul II and all the other new theologies, but at the same time still tries to convert people to Catholicism. This church does not exist but in the minds of the conservative Neocatholics. By defending the Novus Ordo establishment, these Neocatholics are sawing off the branch they're sitting on!
Clueless "Catholic" U.S. Bishops Turn to Modernist Laity for Help
Worshiping the European Union:
Vatican Silent (!) about Moral Concerns in European Union--
Bishop in Prague Forbids Priests to collect Petitions against Abortion etc. because of EU Referendum
Msgr. Fenton warned in 1962:
The Council Might Fail!

Compromise from Hell:
New York "Catholic" Bishops Endorse Abortifacients at "Catholic" Hospitals!

Theologically Bankrupt, but Ecologically Correct:
"Catholic" Bishops Boil Holy Water
at Ecumenical Ceremony to Protect Fish
Whatever.....
the absurdity of the New Religion knows no bounds
A Disgrace to the Priesthood
Novus Ordo to the Core:
the Diabolical Case of "Rock Priest" Fr. Guy Gilbert:
When one tries to reconcile the Church to the world,
rather than the world to the Church

Christmas "Mass" in 2001, in which he receives bread from a Muslim!!!

"Mass" with a Child

Fr. Gilbert with Austrian Novus Ordo Cardinal Christoph Schönborn

Fr. Gilbert with John Paul II
Seen enough? We thought so......
Bishop Fiorenza's Evil Double Standard:


Eagerly removed Fr. Zigrang, but Tolerated and Helped
Child Molester Priests in his Diocese!
(you may have to register to view this article; please do!)
Bishop O'Brien to Face 3-3/4 Years in Prison if Convicted
JAW-DROP
German Archabbot Plays in Satanic Rock'n'Roll Band!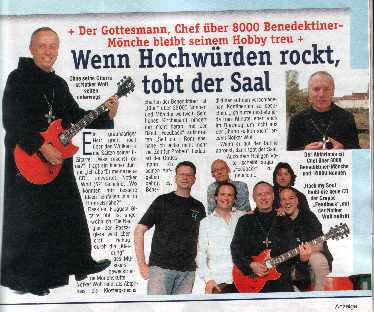 CLICK HERE FOR A NOVUS ORDO WATCH SPECIAL REPORT

Details concerning the Fr. Zigrang Case,
compiled by Peter Miller

Fr. Trigilio under Fire for Speaking Out
JAW-DROP:
Catholic/Jewish (!) Baptism in
Baltimore Archdiocese!!!!!!!!

Related Info: Pope Pius XI's Encyclical about True Religious Unity
A Cathedral that reminds people of True Catholicism cannot work for the New Religion....HENCE:
Rochester Cathedral about to be Wreckovated
Changes Needed to Reflect New Religion


WHOA! John Paul II denounces Syncretism, Relativism, Emphasizes Necessity of Conversion
But wait a minute, what's the deal?
He himself has been telling Muslims to be better Muslims, after all....
This is History in the Making, Folks!
Read More about Fr. Zigrang on the Traditio Site Here
Scroll to July 5, 2003 -- "Eyewitness at a Traditional Revolution"
BREAKING NEWS UPDATE.....
"No More Novus Ordo" Priest, Fr. Zigrang,
thrown out by local Bishop (Fiorenza of Galveston-Houston)!
Fr. finds Refuge in SSPX Priory in Dickinson, TX
Amazing how quickly those Novus Ordo bishops can act if they want to!
Wait--how come Fr. didn't get moved simply to another parish? Ah, right, that's a privilege only for sex offenders....!
Neocatholic "Catholic Legate" Web Site Features "Omega Rock" Link:
"Catholic Rock with kick! Check out this great site which features Catholic and Christian contemporary music. Sites like this transform the culture with language and music which speaks to it. Turn up the volume and show the folks at work what it really means to be a 'Roman roller'!"
........[no comment]........

"Conversion of Russia" Update:
What's Really in the Works Regarding Communism, War, and the Coming Great Chastisement (read this if you dare)
Pearls Before Swine: The EcumeniCircus Must End Already!
Fair Use Notice:
This web site may contain copyrighted material the use of which may not always have been specifically authorized by the copyright owner. We are making such material available in our efforts to advance understanding of political, human, religious, and social issues. We believe this constitutes a 'fair use' of any such copyrighted material as provided for in section 107 of the US Copyright Law. For more information go to: http://www.law.cornell.edu/uscode/17/107.shtml. If you wish to use copyrighted material from this site for purposes of your own that go beyond 'fair use', you must obtain permission from the copyright owner.