Cartoon:
"St. McPeter's" Drive-Thru (click here)
kindly provided by: The Remnant

John Paul II Renews Committment against Justice:
Supports Abolition of Death Penalty
Greets members of apostate Saint Egidio Community!
(see our exposé here)
Interesting: The Making of John Paul III
Is this Juggler juggling before, during, or after the New Mass?
Modernist Dissidents Sternly Counter Vatican on Condoms
What will the New Vatican do? Issue another "scathing" document?!!
JAW-DROP:
German Diocese of Limburg's "Women's Day"


--this piece of "art" constructed by "Netwok of Catholic Lesbians"


--"Oasis of Peace"
View more in this incredible picture gallery: HERE

More Sillonism from John Paul II
Dr. David White:
The New Mass Gave us Beavis & Butthead!


More of the Same: Indifferentism & Sillonism at EWTN

"New Springtime" Update:
"Catholic" Hospital Website in Austria Links to Perverse Website promoting Homosexuality, Contraception, & Sex Education
The link in question is "First-Love-Ambulance" -- do not go there, explicit pictures!!
Imagine - Church!
How a Novus Ordo Diocese in Austria Presents "Church":
Caution: immodest pictures!
Oh, and this is to be found under "Spirituality": click here

Fatima Update:


Ambiguous Denial
New Press Release of Fatima Center
Updated: Vennari's Eye-Witness Account, addresses Fitzgerald "denial"

Jon Tuttle: None Dare Call them Sociopaths


Alright! Novus Ordo Bishop Stands Up to Apostate Hans Küng
Küng issues challenge in return


Americans: 'Hell Exists, But No One Goes There'
Gee, where have we heard this before?!
Even the Protestants Know It!
Catholics and Muslims do NOT worship the same God!
Bye, bye, Vatican II!
Of Interest: Muslims and Catholics don't worship the same God
(to which every Catholic before 1958 would have said: "Duh!")
Cause for "Beatification" opened for "God is our Mother" John Paul I
Current JPII "Beatification" Tracker:
"Conversion of Russia" Update:
Putin the Ecumenist
Cat's Out of the Bag:
Zenit reports construction of Fatima Interfaith Temple to begin soon
--designed by Schismatic Architect!
Michael Cain: Feng Shui Hooey! The "New" Fatima
Publisher of National Catholic Distorter Openly Supports Homosexuality
How come the Vatican hasn't shut down that paper yet or forced it to shed the name "Catholic"?
What are they going to support next? Bestiality? Pedophilia?
Hooray! Buddhist-Catholic Dialogue has begun!
John Paul II to meet Dalai Lama -- again
Same Rockford Diocese threatens to end Traditional Mass in one Parish
Rockford Diocese Bans Moral Dissenters from speaking at Catholic Institutions
Great, but this is no reason to celebrate. This is the absolute minimum of what to expect of a diocese that calls itself Catholic!
"Communism is Dead" Update:
China Closes 125 Churches
This Abomination....


was visited by John Paul II
Do you dare look inside?? Click here
"Blessing of our Aboriginal Reconciliation Garden"
What, you don't remember this from Catechism Class?
Judie Brown vs. the Novus Ordo Bishops
John Paul II took Part in Aboriginal Smoking Ceremony in 1995
Fatima Update!
Vatican Official attempts Damage Control
(scroll to "Rome Quashes Fatima Report")


Some mistakenly think that this news report is an official "No" of Rome to this planned Interfaith Temple. Not so! The official in the report is the same "Archbishop" Fitzgerald who took part in the conference, and he can't say anything was falsely reported because John Vennari was present as well and rendered an eye-witness account! Too bad! And, please, spare us from the modernist claptrap about "ongoing reflections" about the sanctuary's "interreligious dimension"! We know exactly what's going on here! And the final line of the news report confirms it all over again: "The shrine is about to undergo a complete reconstruction with a new stadium-like basilica being erected close by the existing one built in 1921."

JAW DROP:
Redemptorist "Renewal Center" Promotes Zen Buddhism!
Might as well -- what's it matter now:
Pets' "Mass"!
Just what we Needed:
Vatican Prepares New Document on "Interreligious Dialogue"
Only in the Novus Ordo:
Vatican President of "Interreligious Dialogue" Greets Muslims at End of Ramadan!

THE NEW FATIMA: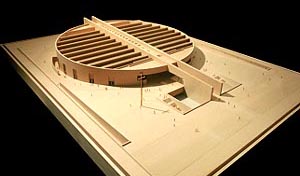 Guimaraes on the Fatima Fiasco and the Planned Pagan Temple
JAW DROP:
"The Mass has ended, and the bar is open."
"Pub Mass" Scheduled for Dec. 26 in Houston
This is Bishop Fiorenza's diocese: no Traditional Mass, but Pub "Mass"!
"New Springtime" Update:
No Priests, No Parishioners: NY Parish Closes
Step by Step:
U.S. Novus Ordo Bishops Approve Priestless "Liturgy"
Only in the Novus Ordo:
Umm! Novus Ordo Religion Honors Anglican Archlayman!
These Schismatics at least have Common Sense:
Russian Orthodox Cut Off Ecumenical Relations with Anglicans
John Paul II Urges Road Safety

EWTN Priest Avoids Answer about Padre Pio's Refusal
to Hear Confessions of Women in Pants
A Matter of Customs? No, indecent is indecent, no matter during which times.
Oh, and check out Deuteronomy 22:5
Sungenis:
CatholicCitizens.org censors Bridgitte O'Donnell for critiquing sex-therapist Gregory Popcak
--that's right, CatholicCitizens.org actually removed their scathing critique!
FATIMA UPDATE:
An Eye-Witness Account!


John Vennari was there! Exclusive Report Here
More on Fatima:
Portugal Newspaper Emphasizes TRUTH of Its Original Report on Fatima
Let's Play Eucharist!
California Sister of Perpetual Delusion teaches Heresy to Children
New Church, New Gospel:
How the Newchurch has Mutilated St. Matthew's Gospel
In Bed With the Devil:
The New Vatican's Support of the Wicked United Nations
vs. Pope Pius XI's Encyclical Ubi Arcano Dei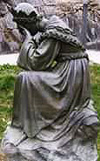 Press Release:
Fatima Center Reacts to Planned Interfaith Shrine:
"AN ACT OF APOSTASY"
"God is Mother"
Background on a Horrendous Statement of John Paul I
"Conversion of Russia" Update:
Metropolitan Kirill says John Paul's visit to Moscow depends on "an accord with the Vatican" being reached, particularly on the issues of "the presence in traditionally Orthodox nations of Eastern-rite Catholic Churches which are loyal to the Pope," and "Catholic missionary activity in Orthodox countries." Apparently these things are PROBLEMS??? Nice to know, after decades of "dialogue"....
But What About the Social Kingship of Christ?
JPII addresses Palestine Liberation Organization, hopes new national Constitution will include "due recognition of all religious communities and adequate legal protection of their freedom of worship and expression."
The Catholic Position on Religious Liberty:
Quas Primas (Pius XI)
Libertas (Leo XIII)
Immortale Dei (Leo XIII)
Quanta Cura (Pius IX)
Divini Redemptoris (Pius XI)

What's Wrong with the New Mass?
UPDATE: Turmoil in Novus-Ordo-Land!
EWTN Priest Opposes "inter-religious or ecumenical efforts," now changed his response to a Clear Condemnation


"Communism is Dead" Update:
China Closes More Churches
Let Ecumenism Ring!
So much for the "Conservative Cardinal" Pell
When the Roman Curia gets in the way
Religious orders having a hard time talking to John Paul II
"The archbishop hung up on me..."
Correspondence with Mother Teresa
by Dr. Coomaraswamy
"Diocesan" Gay Conference in California
The Problems with the New Sacraments
--apart from the New Mass
Dr. Coomaraswamy's book on the changes of the Sacraments in the Novus Ordo religion
The Demonic in the Sanctuary:
Novus Ordo Priest Says "Mass" Dressed as Dracula
Only, only in the Novus Ordo.....
No Wonder:
An Inside Look into John Paul II's Saint Factory
That explains a LOT!
Oh, and women are so great on details -- perhaps, but last time we checked, women were more emotional than rational.
GUESS WHAT:
We Have Msgr. Guerra's Email Address!
We don't know if he speaks English or only Portuguese, but here it is:
[email protected]
You can translate English-Portuguese automatically here:
http://dictionary.reference.com/translate/text.html
Msgr. Guerra is the "shrine rector" who lends great support to the Interfaith Abomination in Fatima (see article here)
More Fatima News:
Traditional Catholics Attack Fatima Interfaith Congress
Matt/Ferrara on the Planned Fatima Desecration:
Waiting for Armageddon
Words of Wisdom of Pope Saint Pius X:
"Alas! this organization which formerly afforded such promising
expectations, this limpid and impetuous stream, has been harnessed in its
course by the modern enemies of the Church, and is now no more than a
miserable affluent of the great movement of apostasy being organized in
every country for the establishment of a One-World Church which shall have
neither dogmas, nor hierarchy, neither discipline for the mind, nor curb for
the passions." (Letter against Sillonism, 1910)
Sillonism & Indifferentism Rear their Ugly Heads Again:
Vatican Announces "Reconciliation Concert"
for Jews, Muslims, Catholics


Finally, ONE Novus Ordo Bishop Speaks out in Defense of Terri Schiavo!


MORE ON FATIMA!
Neo-Catholic Organ Reports Strange Ecumenical Meeting at Fatima, only SSPX Protested, Made Reparation
The Great Apostasy is getting bolder and bolder, unfolding right before our eyes! God help us if we should remain idle or silent as this happens! Keep track of current commentary on our Blogspot here. The abomination was endorsed by the President of the supposed "Pontifical Council for Interreligious Dialogue"!!

LOCK-JAW!
Fatima to Become Interfaith Shrine!
Exit Immaculate Heart of Mary, Enter (diabolical) Spirit of Assisi!
Surely, the End cannot be far! What will the Neocatholic Excuse Factory come up with now? This article is absolutely stunning, nauseating, so anti-Catholic, so anti-Gospel, so contradictory to Catholic Truth that it must become obvious now to anyone that the wicked Novus Ordo religion is of the devil!
"For all the gods of the Gentiles are devils." (Psalm 96[95]:5)
"See what things the enemy hath done wickedly in the sanctuary." (Psalm 73[74]:3)
"Or what fellowship hath light with darkness? And what concord hath Christ with Belial? Or what part hath the faithful with the unbeliever? And what agreement hath the temple of God with idols?" (2 Corinthians 6:14-16)
"But the things which the heathens sacrifice, they sacrifice to devils and not to God. And I would not that you should be made partakers with devils." (1 Corinthians 10:20)
"And king Antiochus wrote to all his kingdom, that all the people should be one: and every one should leave his own law... And many of Israel consented to his service, and they sacrificed to idols, and profaned the sabbath... And he commanded the holy places to be profaned, and the holy people of Israel." (1 Maccabees 1:43-45, 49)
Holy Catholic Truth:
Pope Pius XI's Encyclical Condemning Ecumenism Here
---
Wiccan teaches at "Catholic" University!
(link is to his page, be careful)
"New Springtime" Update:
"Catholic" school observes Passover!
---
Font of Heresy:
Modernist Michigan Diocese (!) Denigrates Sacred Scripture
On their official website (here and here):
"Today we feel that while the beloved disciple in the Gospel is an eyewitness, someone else has written his testimony down in our canonical Gospel" vs. "[the Modernist heretics say] the Scriptures can no longer be attributed to the authors whose names they bear" (Pope St. Pius X, Pascendi 34)
"To us as Roman Catholics interpreting the Bible, even though I'm absolutely sure that Jesus didn't say some of the things that are in the Gospels, nevertheless, they are inspired text" vs. "[It is heresy to say that] divine inspiration does not extend to all of Sacred Scriptures so that it renders its parts, each and every one, free from every error" (Pope St. Pius X, Lamentabili Sane 11) and "[It is heresy to say that] in many narrations the Evangelists recorded, not so much things that are true, as things which, even though false, they judged to be more profitable for their readers" (ibid. 14).
"So as Catholics, we don't believe the Bible should be taken literally? -Correct. We are very interested in historical scholarship" vs. "[We must take care] not to depart from the literal and obvious sense, except only where reason makes it untenable or necessity requires" (Pope Leo XIII, Providentissimus Deus 15)

Related Catholic Links:
Pope Leo XIII: On the Study of Sacred Scripture
Pope St. Pius X: Syllabus of Modernist Errors
Pope St. Pius X: The Errors of the Modernists
Pope Benedict XV: On St. Jerome and Sacred Scripture
Pope Pius XII: On the Interpretation of Sacred Scripture
"New Springtime" Update:
Rome's Chief Exorcist Blasts New Rite of Exorcism
Code Name: "It"
"Cutting-Edge Liturgy" in Monterey Diocese...appalling!
Whatever "Mass"
Don't even try to figure this one out
More photos here
No Comments.....


....from this Parish in Florida
Only in the Novus Ordo:
Across-the-Border "Mass"
You've Got to See Those Pictures
USCCB's pictures of "World Youth Day"...be sure to read the captions, because otherwise you often can't make out what the picture depicts. Two Novus Ordo Watch favorites are: "Pilgrims from Omaha, Nebraska pray at mass" and "Eucharistic ministers distribute the Eucharist at mass."
Yo! I'm Da Rappin' Priest
And some pictures here
Add 5 to That
5 More to be Beatified on Sunday
JPII Beatification Tracker:
"Mass" in the Gym!


What's it matter now, right?
JAW-DROP
Apostasy Update:
Group of U.S. Novus Ordo Bishops wants "Filioque" Withdrawn from the Creed!
One Step Further on the Road to Perdition..... Why don't they just abolish the whole Church?

Damage Control?
MA Bishops: 'We were misinterpreted on Same-Sex Benefits Issue'
Bishop's Chair or Electric Chair?
This is the "cathedra" in Taj Mahony, Los Angeles
But it gets even better:
"Chapel of the Blessed Sacrament"
It's a good thing they note that, because no one would have guessed!
And this is what the New Vatican calls a "Significant Church"
See Logo for World Youth Day 2005
What's it remind you of? Islam? Casper the Friendly Ghost?
Fair Use Notice:
This web site may contain copyrighted material the use of which may not always have been specifically authorized by the copyright owner. We are making such material available in our efforts to advance understanding of political, human, religious, and social issues. We believe this constitutes a 'fair use' of any such copyrighted material as provided for in section 107 of the US Copyright Law. For more information go to: http://www.law.cornell.edu/uscode/17/107.shtml. If you wish to use copyrighted material from this site for purposes of your own that go beyond 'fair use', you must obtain permission from the copyright owner.